What Happened to Superman: Ride of Steel?
The Bigger Picture

In this view, you can see two of the magnetic calipers used to stop the trains on Superman: Ride of Steel at Darien Lake. The ride is mechanically similar to the version at Six Flags New England. The rectangular silver boxes are the permanent magnetic brakes. You can see how the brake caliper sits in a pair of pillow blocks so that it can rotate in and out to surround (or not) the brake fin. Between the pillow blocks is the actuator cylinder, with black hoses (top and bottom) to push its piston in either direction. The cylinder rod is nearly obscured in this shot, but it attaches to the center of the caliper, just below the lower magnet. Attached to the top of the cylinder is the solenoid valve. You can see the grey wire extending from the valve to the electrical box beneath the far pillow block; that appears to be the control line for the solenoid valve. As noted in the main text, the white pneumatic line appears to supply the caliper assembly from that black unit under the center of the track. I believe that is an air pressure regulator (it has a gauge) and oil injector used to provide lubrication via the air lines to the cylinders. There is a tee fitting on that unit; I presume the other hose supplies the caliper on the other side of the track. I am trying to decide whether the blue cylinder at the extreme left of the picture is an air tank, or if that is a support for the storage track, which is located parallel to this brake run. I'm pretty sure it is a support; there is a rigid air line with a ball valve connected to the far side of the regulator/lubricator.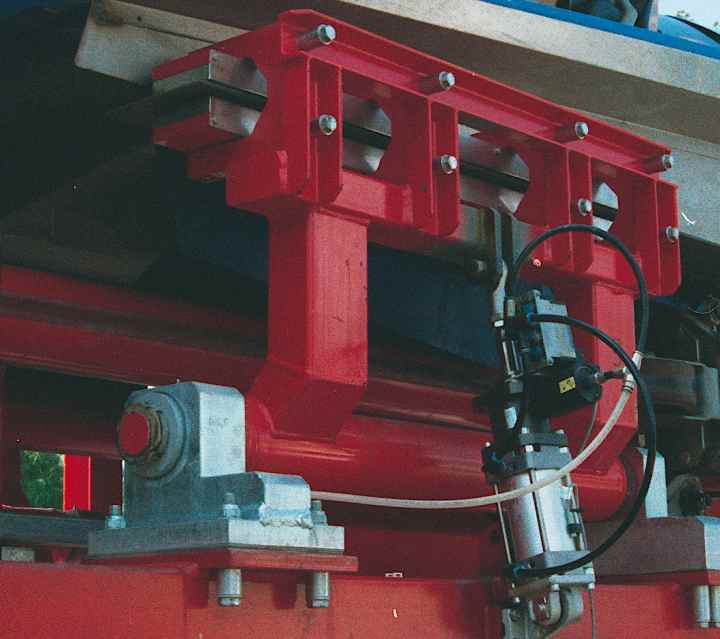 This is a better view of the brake caliper itself. Again, you can see the steel caliper frame sitting in its two pillow blocks. Here you can better see how the cylinder is rotatably attached to the ride structure and to the bottom edge of the top part of the caliper. You can also more clearly see the pneumatic circuit, with hoses feeding from the solenoid valve to both ends of the actuator cylinder.